Gloucester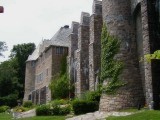 Hammond Castle
Hammond Castle is majestic Medieval-type structure built on the rocky shores of Gloucester, completed in 1929. It was the home and workplace of a wealthy, eccentric genius named John Hammond, who was one of the great inventors of our time. During his lifetime, Hammond traveled widely, outfitting his castle with incredible centuries-old furnishings and relics. Being a consummate inventor, he also integrated somewhat bizarre features into the structure, such as indoor fog and rain devices and secret passageways, not to mention a magnificent pipe organ of his own design. He called the house his "Abbey by the Sea" and often entertained many of the notables of his day there. At night, he would sit in a monk's robe reading philosophy by candlelight, behaving as if he were in a monastery. Hammond died in 1965 and is buried with his pet cat near the castle.. Unfortunately, at his behest, the entire burial area is covered with poison ivy, so "no one can bother me."
No wonder then, that this strange place has a history of odd sights, sounds, and energies. Stories of spirit entities here mainly revolve around sightings of Hammond, his wife, and his black cat, though the staff there have confided to a select few that there are more entities here than just those three, including one groundskeeper who died there tragically, and still others who are unidentifiable.
Today, Hammond Castle is a museum, and walking tours are available. The castle and grounds can be rented for special occasions, and group tours can also be arranged. If anyone has been to this remarkable place and taken any pictures, we would love to see them. Please post to the message board below if you have further information, pictures, EVP's or stories to share about this marvelous and mysterious place.
Hammond Castle is located at 80 Hesperus Avenue, Gloucester, MA 01930. Call ahead for hours and availability for tours. 978-283-7673.
Below is some additional information about Hammond Castle sent by email by Justin - thanks!
Pretty interesting stuff considering I am a lifelong resident of Gloucester and very well steeped in local history. I have heard some of the "ghost cat" stories from former tour guides - apparently Mr. Hammond had several cats over the years (you can still see the scratches they made to his red-leather dining room chairs - and it's not certain if there are more than one "ghost cat". I have never heard of any other apparitions.

As far as his tomb, yes it is covered in poison ivy, but it is still accessible through an overgrown path. However it does not look like an Aztec pyramid, more like a typical mausoleum with a large age-green copper door (that has been replaced over the years due to vandalism - there were rumors about just what he was buried with) I have been to the tomb numerous times growing up and the best view is from the water at high tide.

I keep my ears open for any other information on the place, but I have not heard of any ghost sightings since I was a kid.
Custom Search
---
---