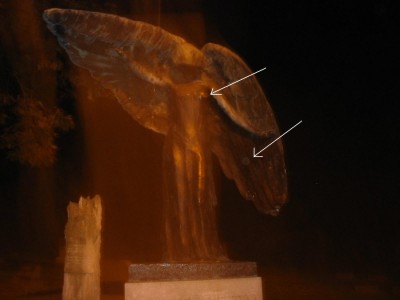 Iowa City
The Black Angel at Oakland Cemetery
Ask anyone in Iowa City about the Black Angel, and you will hear a different spooky story from each one, mostly revolving around touching or defacing the statue and subsequently suffering injury or death.
The Black Angel is an imposing 8.5 foot statue commissioned by Teresa Feldevert for the Feldevert family. There are three sets of remains under the statue, including Eddie Dolezeal, Teresa's son, Nicholas Feldevert, Theresa's husband, and Teresa herself. The statue itself is quite odd for a burial monument, depicting an angel looking down with a somber expression and cold, odd-looking eyes with somewhat drooping eyelids that many people find quite unnerving. Most angels in cemeteries are looking upward with wings stretched up towards the heavens as if to help the dead find their way, but the Black Angel looks downward with the wings out, but relatively downwardly pointed. The blackish color of the statue, however, is the feature that attracts the most attention. It originally had a bronze finish that has tarnished with age and has resisted every attempt at polishing or cleaning it. Legend has it that it turns a shade darker every year at Halloween as a reminder of the people it has killed.
Next to the Black Angel is Eddie's original marker, a cement stone shaped into a tree trunk. Teresa moved Eddies body when her husband died, and he now rests under the Angel, with his old headstone off to the side. Though it has no real legends associated with it, it is interesting in that there are no dates inscribed on it, and indeed, Teresa's own date of death is not inscribed on the Angel monument either.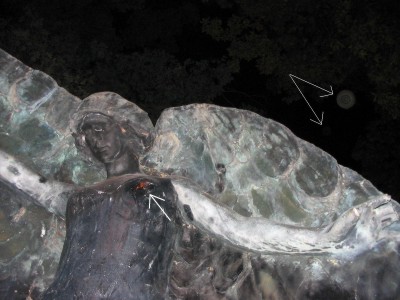 Other than many comments about an uneasy feeling in the vicinity of the Angel related to the eyes that seem to follow one around, few stories of paranormal occurrences have been reported in the presence of the Angel by cemetery visitors. Amazingly, during our research, we found no controlled investigations of this site. Someone needs to get out there and take some readings!
However, the main phenomena here appears not to be something lingering in the cemetery, but something that vandals and disrespectful people take away from the cemetery. Many stories involve people who have touched or desecrated the Angel in some way who were rewarded subsequently by death. One well-known story is about four boys who urinated on the monument, and died later that night in a car wreck. Another tells of a young man who used a hacksaw to cut the thumb off the Angel (and indeed a thumb and a few fingers are missing) who basically lost his mind and was eventually found dead in the Chicago River. His cause of death was strangulation, and the sole piece of evidence was a single thumbprint on his neck. Days later, a caretaker supposedly found a blackened piece of bronze in the shape of a thumb at the base of the Black Angel monument.
On a personal note, while doing research on the Black Angel at Oakland Cemetery, we were reminded over and over again of another more famous black angel - the Grim Reaper. Though the cemetery Angel isn't cloaked, it does resemble the Grim Reaper in a lot of ways, and the legends behind it are also remarkably similar. We can't help but wonder if this similarity is really all that much of a coincidence after all......
Oakland Cemetery is located in Iowa City at 1000 Brown Street. It is open between 8:00 a.m. and 4:30 p.m. Special use permits are available for groups or special projects. (319) 356-5105.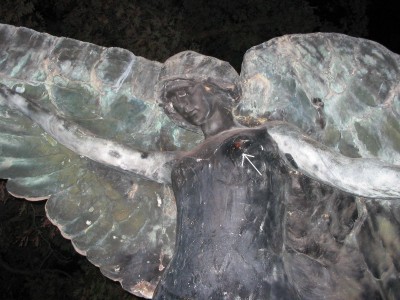 As an addendum to the Black Angel, two people named Miranda and James sent me all the pictures of the Black Angel on this page. Their email got misplaced in the shuffle and I just found it again recently. When I tried to reply, their email was no longer valid. Thanks so much Miranda and James. I'm so sorry I couldn't contact you! Here's what they had to say about the Black Angel:
Hi there. My name is Miranda, I was born and raised in Iowa City, IA and have heard tales of the Black Angel throughout my school years. My boyfriend James and I were sitting at his apartment (just down the street from Oakdale Cemetery, where the angle is placed this past Friday night, and I was looking up information about the Black Angel. Eventually we decided to go and check it out. We took picture of the angel and ventured home, after reviewing the pictures today we realized a couple white dots in just about every picture we took. Also if you look at the angels left breast you can see a red light, no matter the different angles we took, that red light was still in the same spot every time. We were just wondering if you could take a look and tell us what you think of our findings. We appreciate your time.
Custom Search
---
---