Below are pictures that contain the unexplainable and just plain bizarre. If you have a picture you would like to submit, please contact me by email. Do understand, however, that I only post what I consider to be the best photos, and that I get a lot of submissions. If I like yours, rest assured, you will hear from me, though it might take a few days. Submissions that get accepted generally contain something easily recognizable like a face or a figure. I generally won't post orb pictures anymore unless they have some unusual feature because I have already received hundreds of them. If you shoot an orb with the face of Jesus, the devil, or a smiley face in it let me know and I'll consider it. Unfortunately, I can't respond to everyone, so please don't be offended if you don't hear from me after submitting. I'm doing my best to keep up!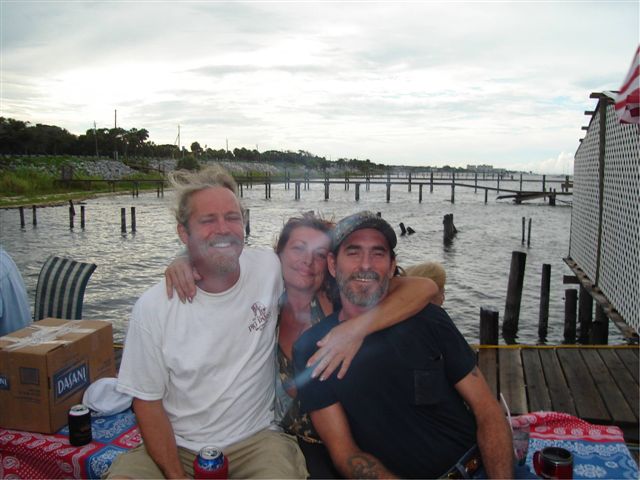 We recently had a fourth of July party and I took several pictures with a digital camera.
We recently had a fourth of July party and I took several pictures with a digital camera. My friends Kat and Monte, whom I hadn't seen in a long time showed up for the party
Kat and I had a very close mutual friend (Christine) that died a few years back.
While one of my friends was taking the picture of Kat, Monte and I, Kat said "This one's for Turtle" (Christine's nickname) When I downloaded the pictures the next day, I saw this strange, swooping, misty light in the picture of the three of us. It is the only picture that has this "light" on it. Then I remembered Kat saying "this one's for Turtle" before the picture was taken and it dawned on me that perhaps I had captured Christine's Spirit on film....What do you think?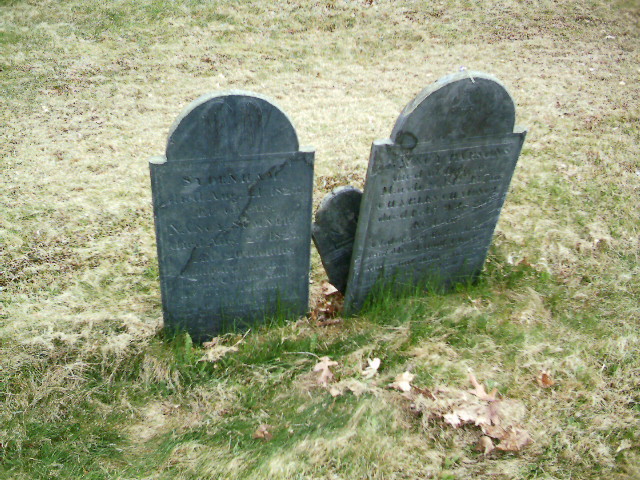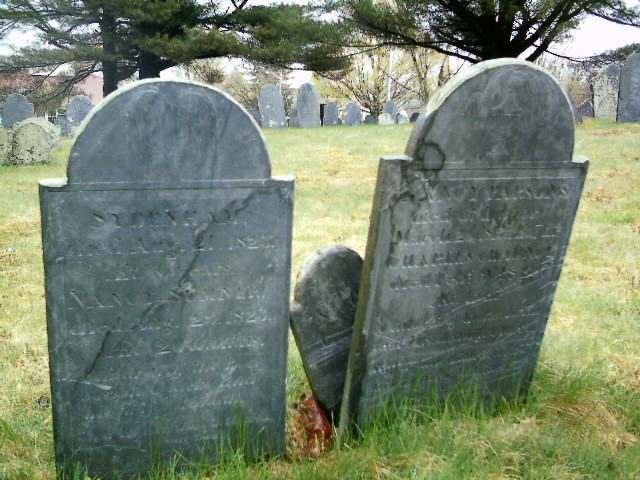 The above two pictures are a nice example from Raun and here's what he says - THIS I BELIEVE IS THE DEVIL! I TOOK THIS PICTURE AND THE SECOND ONE AT A CEMETERY IN MASSACHUSETTS ON VACATION AND WAS SURPRISED TO SEE THIS IMAGE OF THE DEVIL IN THE FIRST PHOTO BUT NOT IN THE SECOND ONE OF THE SAME TOMBSTONES! I NEVER NOTICED THE IMAGE WHEN TAKING THE PICTURE . WHAT IS TRULY AMAZING IS THAT THE MORE YOU ENLARGE THE PHOTO THE MORE DETAILED THE FACE BECOMES!!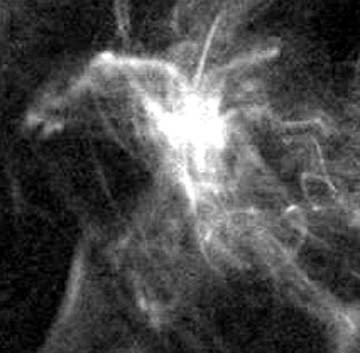 Above is a nice submission from Jonnno and here's the story - "The original was taken during the southern cross at the lake of the Ozarks during a full moon. Was to be a pic of the moon shining on the lake.......after downloading the two figures showed up. Then I blew the pic up and saw much more (Click here for the blow-ups)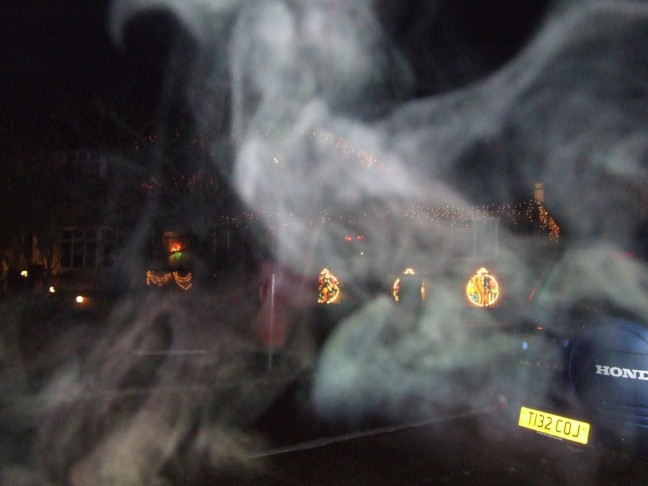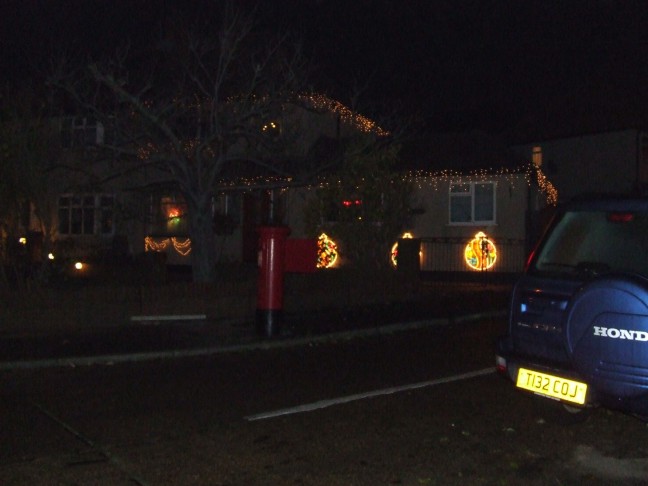 The amazing picture above with a comparison picture below it is from Ms. Lee in the UK, and here's what she says - Hello there, I am and elderly lady living in the UK, This past Christmas my husband put up a lot of lights outside our house, he wanted a picture of them to keep, so i went out and took two shots using a new digital camera he had bought me, one shot was just the house and lights but the other had an image that has blown my mind and although I have always had an open mind, now i am a firm believer, see what you think, I believe that I have captured an image of an angel, I have shown this image to quiet a lot of people and most see what I see but a few say its smoke, all I can say to you is that there was nothing there when I took the shots, and why is it so clearly on one and nothing on the other, I will attach both for you to see, and will be very interested in your reply. thanks for your time, I like your site and have bookmarked it for a good look, I have been told that the land where we live was once owned by king Henry V111 if that is true then its likely that more than a few died around these parts. enjoy my picture and please feel free to show others, Its made me feel so much better and am sure others might feel the same ...take care. and again thank you.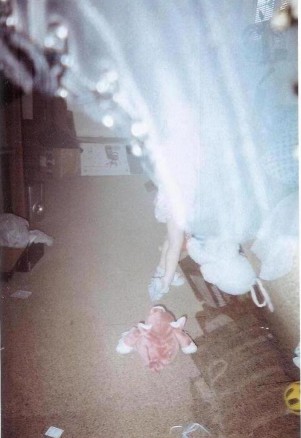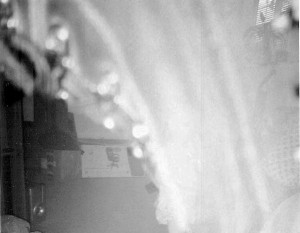 These two interesting pictures above were submitted by Nicole, and here's what she says - This is supposed to be a picture of my daughter back in July or so of 2005 in my home in Joplin , MO.....but as you can see she was not the only person in the picture. There are 3 faces and I believe that the face in top left corner is my dad . It looks exactly like him....He was a biker looking guy if that helps you to see his face any better. Well thank you very much for taking the time to read this.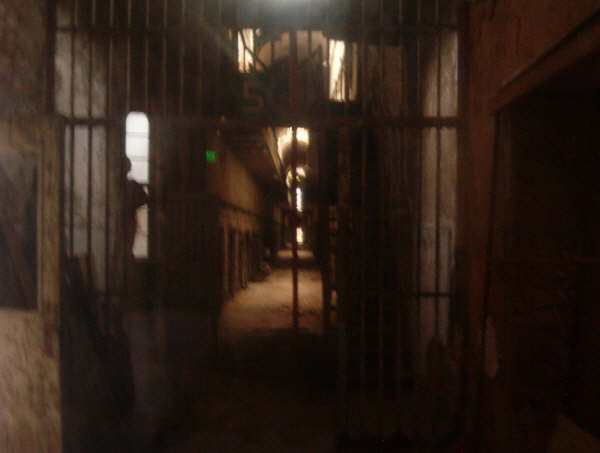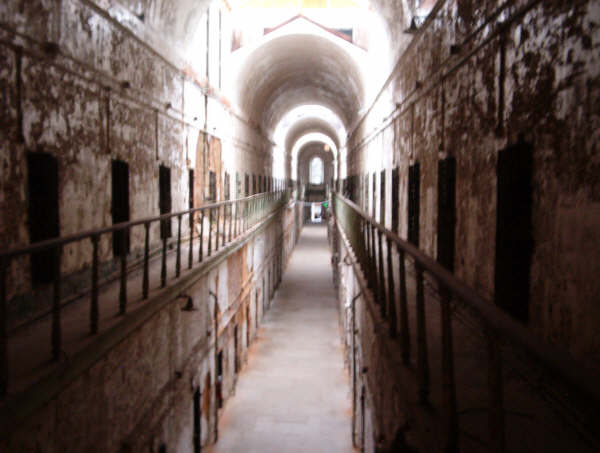 The two interesting photos above are from Chelsea, and here's what she says: "The picture above is from Eastern State Penitentiary. My older sister went with her friend. This place was having a tour they went to and took pictures. The place isn't used anymore that she knows of and the guide person said no one was down this hallway or in any room. She took a picture and when she got them processed, there was a shadow that wasn't there before. I don't really know about the green square in the picture though. She never said anything about it. And also the 5. I'm not sure if it's a label for the hallway or something else. I donít' know if that is a light at the top either."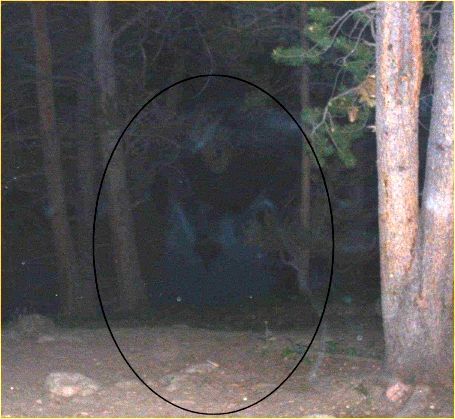 This interesting photo is from Marie, and here's what she says about it - Hey....I have a picture that I took while on a hiking trail in Colorado. We were on our way out of the trail and I shot this photo through the trees for no reason at all...When I got home, I looked at the pictures on my PC and we were shocked to see an image of a person wearing vintage dress in this photo. I'm not into this kind of stuff, but it did freak us out.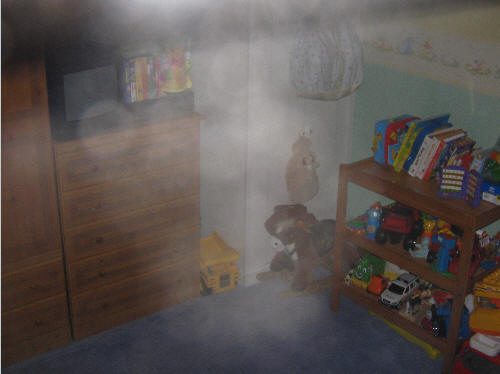 From Dawson - The light in my sons bedroom flickers and goes out, sometimes it doesn't come on at all, and other times it's fine. Worried about an electrical fault I have taken the bulb out. Here is a picture I have taken with a shadow under the light. All of the pictures i have taken in the other rooms are fine !!!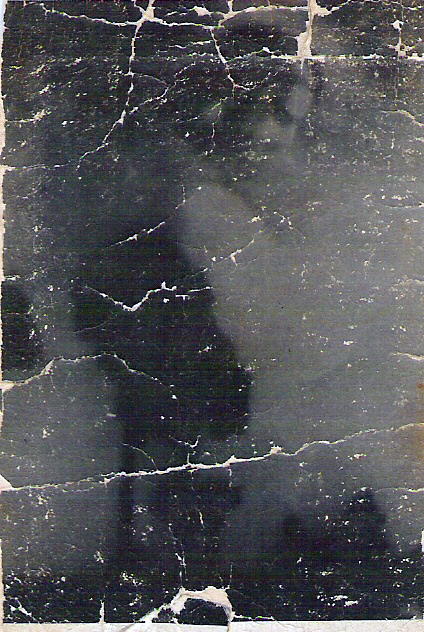 This is an intersting photo submitted by Tina of what appears to be Christ in the clouds. Here's what she says: "This is a photo of the sky that was taken in 1967. Someone that my aunt's family knew was going through some hard times in her life. She was blaming and cursing God. Then one day she looked up to the heavens and said IF YOU ARE REAL, SHOW YOURSELF, and when she said that, the sky darkened and it started to thunder. At that same time she snapped a picture of the sky, and when she got the picture back, this is what she got."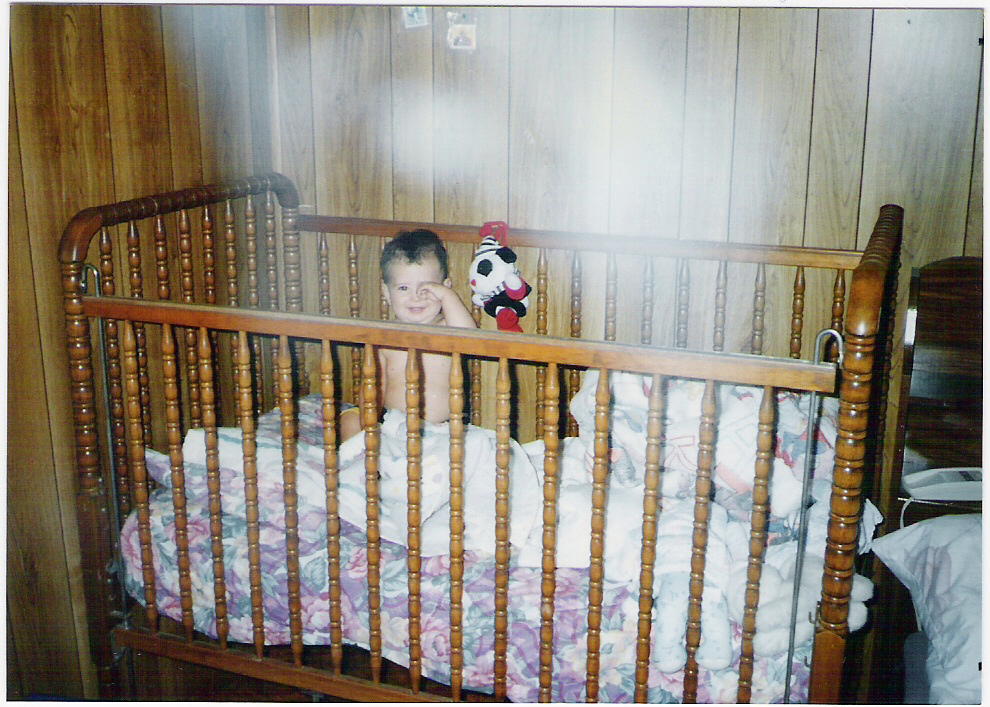 This nice example of a mist was also submitted by Tina. Thanks Tina!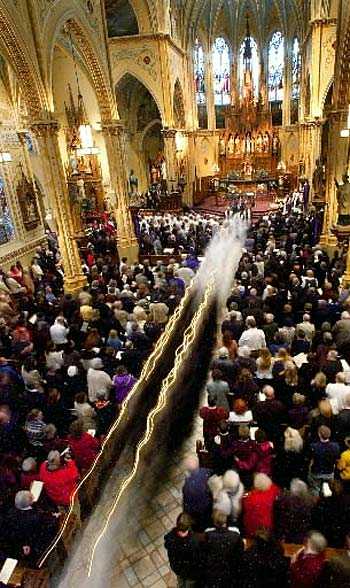 This amazing picture was submitted by Joel, who relates "I looked at your pictures and have a picture taken by a friend of mine at the funeral of Father Willy in Cleveland, OH. This was a Catholic that was killed in his office and the murderer set fire to the building. The casket is under the mist." We looked around, and the priest's name was Father William Gulas from the St. Stanislaus Church. This picture is within that church at his funeral (the sanctuary apparently wasn't damaged in the fire). The killer was a Brother in training who had just been fired. He subsequently confessed and took a plea bargain of 24 to life for the murder and arson.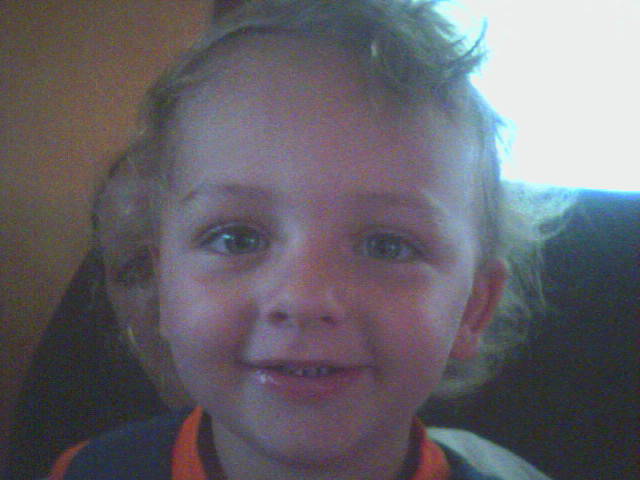 This awesome picture was taken by Heather in Pennsylvania of her son. She relates "I took this photo of my son with my Samsung Verizon camera phone. He was sitting with his back to the couch. I'm still trying to figure out what the apparition is behind him. I don't believe that is of him (movement). One theory was that it may have been a reflection of me but I don't know how that could have happened, I was taking the picture on the opposite side of the phone. A ghost maybe? I would love to know your take on it, it's got me wondering?!"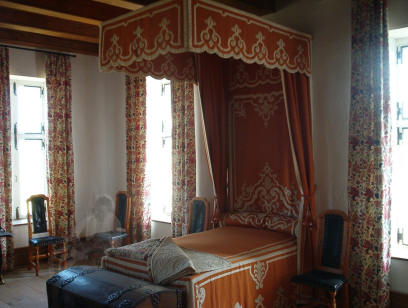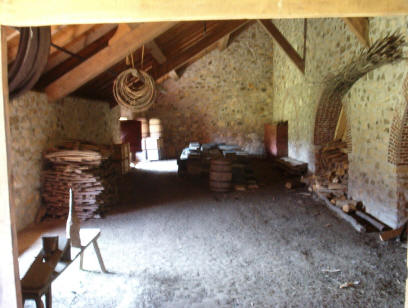 The two interesting pictures above were submitted by Jerry, from Troy, Michigan who took a business trip to Canada and visited the Louisburgh Fortress. He relates "it was kind of creepy in a way, but no more creepy I guess than any other old fortress\castle one might visit, I went over all the pictures in great detail and found 2 that stood out. NEITHER of which when taken had an significant meaning to myself or made me feel weird at the time of taking. The one in the bedroom shows a woman (I think?) sewing or maybe mending the bed or maybe some clothes? I don't have the best eyes. The second one (I had a harder time picking that one out when going through them) shows what looks like a boy or someone standing over near the supplies. The fortress is ancient and was the site of many battles between the french and english of early times, many died on those grounds and especially near the supply house with the man\boy standing in it because it is located next to the infirmirary' where most died while in care."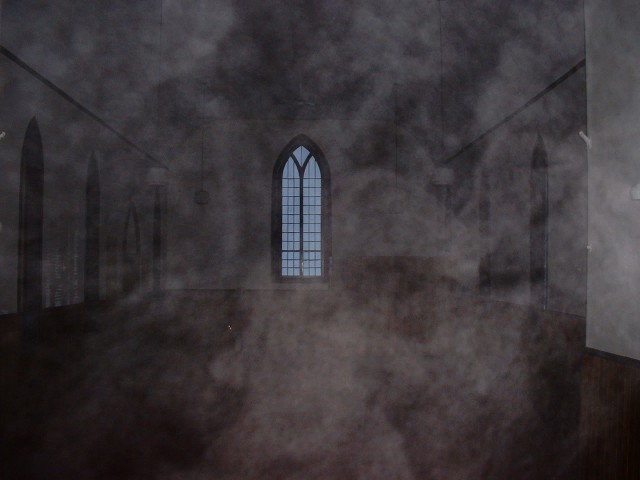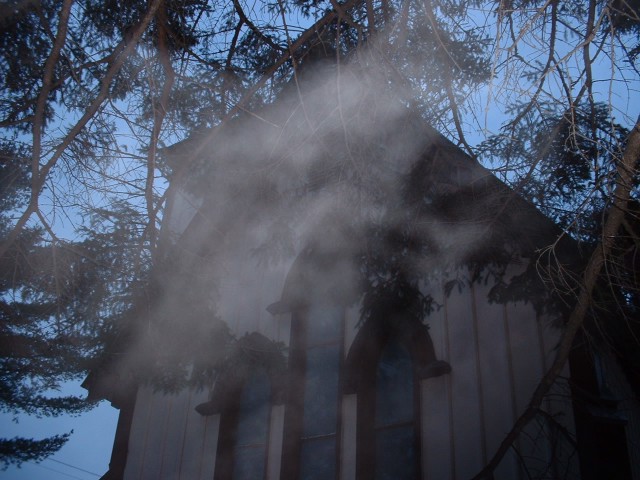 The two fabulous pictures above were sent in by Roxanne in Westfield, New Brunswick, Canada. Roxanne writes: "This is a Church that is for sale here in New Brunswick. A man was there viewing this Church with a Real Estate Agent. After he saw what was in the pictures, he changed his mind (he was going to buy it and turn it into a house for his family). If you look real close at the darker picture you will see at least 25 different ghosts. I even saw a dog in the mans cheek. There is one above the Church window with glowing eyes. Also to the right you will see a person's face clearly - with an open mouth, teeth, and lips. The other picture I believe is an Angel with a open book to her right. If you look closer. you will see the sky was clear blue so it isn't smoke or fog. If you try to lighten up the picture that Angel stays light."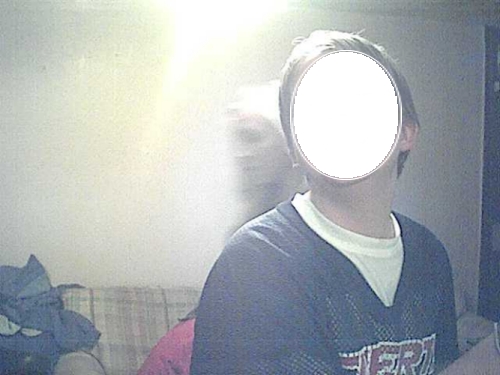 Above is one of the finest examples of unexpected phenomenon showing up on film that we have encountered. It was submitted by a reader who's son is mugging for the camera - and look what showed up behind him in a fully lit room full of people! The reader preferred this his son's identity not be published, so I did the masterpiece of artwork over his face, but as far as we can tell, that is the only retouching that has been done on this picture, which again, in our opinion is an absolutely awesome example of inadvertent ghost photography....yes there is someone ducking out of view on the couch.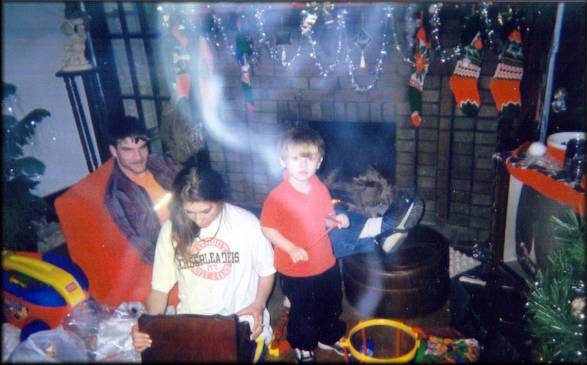 The picture above was taken in a residence in Birmingham, Alabama that we believe is haunted. The house is approximately 100 years old, and its history is unknown. The occupants have complained frequently about cabinet doors opening in the kitchen, doors swinging open and shut on their own, and a feeling of being watched in the basement. They took this picture at Christmas and were amazed to find this mist imprinted on the film. We will be investigating this site further in the near future, and will post the results.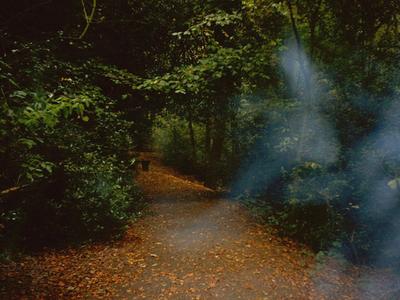 Above is an outstanding photo with a myst submitted by Martin in the UK. Here's his story (the whole fascinating story can be found on the Message Board):
Also last October (8 months after my mother had passed away) I was out taking photographs in a nearby woodland area, Iíd exposed a couple of rolls of film and several compact flash cards filled. I developed the films and oddly some have not turned out, this donít happen very often, in fact it had not happened in years. Then I uploaded the compact flash cards to the PC and found two images to be "spoilt" by what I can only describe as "mist" or "smoke", now nobody was burning anything nearby and I was not smoking a cigarette either, after looking at this one particular image I started to see images of people for example I could see a mother holding a child, then I could see an adult reaching out towards the camera the "smoke" appears to be coming from out of the ground just in front of the point of the camera.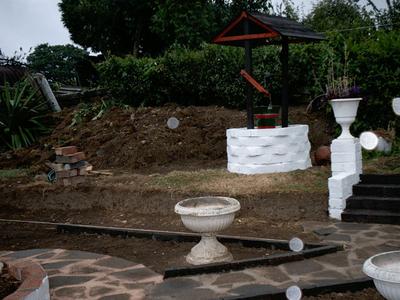 Another really great photograph by Martin is above. Not only are these unusually clear orbs - they are rare clear orbs in a picture taken in broad daylight! Pretty impressive!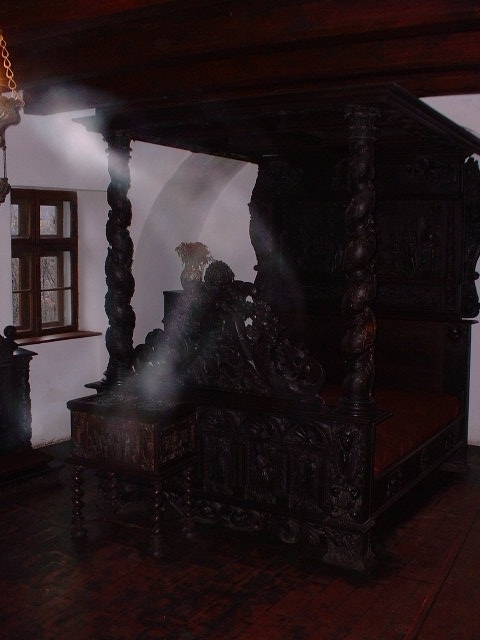 The nice example above is from Mihai Ogasanu from Bucharest/Romania, and below is his explanation:
My friend and I were at Bran's castle (Dracula's Castle) about 2 years ago... (in Feb) when we photographed (without permission) several places inside the castle. Since there was nobody to see us taking pictures we did it without any obvious concern. The truth is I will send you another picture where you can see me with my camera (picture taken by my friend) in the same place - so you can see that nobody was smoking - so this cannot be mistakenly taken for smoke - It's some sort of a misty thingy. ;) (Smoking was not allowed there - and nor me or my friend smoke.) I had a FujiFilm FinePix2400Zoom Digital Camera. My friend had an older low res Kodak digital camera. But anyway - the "ghost" it's here in the picture ! WE PHOTOGRAPHED SOMETHING ! ! ! (you can see it like some sort of shape - head - hands.) Take a look and maybe you can figure out some more of it.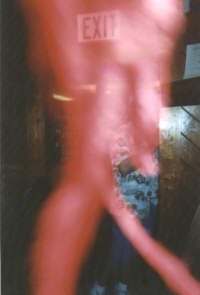 This interesting photo was taken by a reader who was shooting a photo of a friend in a bar. She contacted us wanting to know what it was. Unfortunately, there's no clear answer to this. There are two immediately striking things about this photo - the red color and the almost human shape of the mist. But upon closer examination, there is one more thing - look at the subject's face - very bizarre!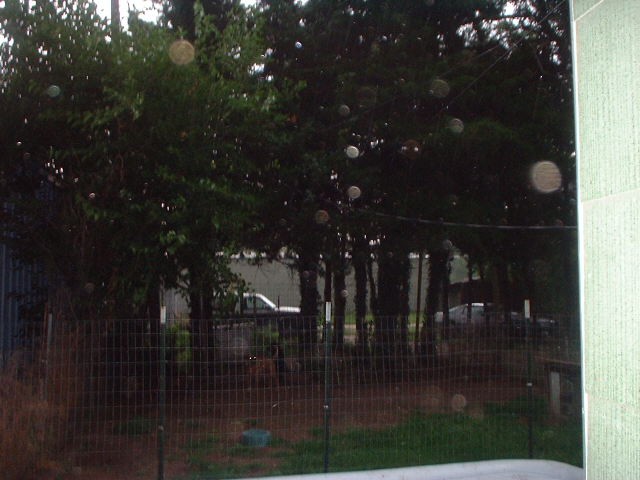 Above is a nice example of orbs, shot by Dee at her home in Hutchinson, Kansas.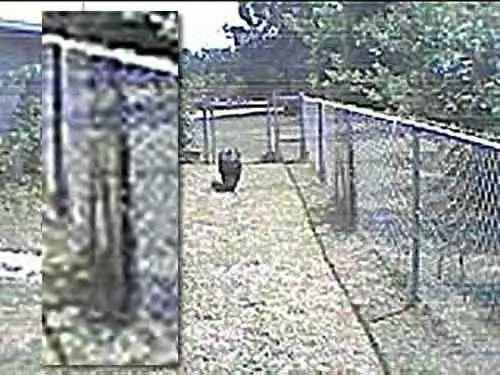 Ghost lady
from Crystal, location Bartow Florida, Polk County

I was taking some pictures of my pet pig, and by the fence I caught an image of a young lady in a long dress. It looks like her arms are crossed. I am very much into the paranormal. I have seen things all my life, but this time I had a visitor watching. I didn't notice until I saw the pic. She wasn't there at the time, and nothing is by my fence. A lot of people have seen this pic and see a lady. We call her "Ghost Lady." As you can see, she was looking right at me when I was taking the pic. Ghosts are real, whether people want to believe in them or not!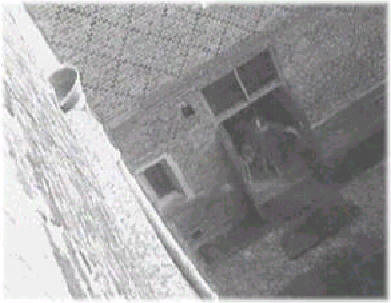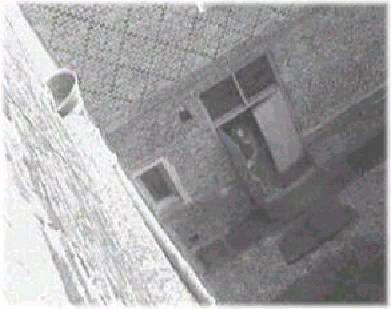 The above two pictures show footage from a closed circuit camera at the palace of Henry VIII (Hampton Court Castle) just outside London. Security was concerned about a fire exit that was often found open and checked the footage to find this ethereal figure opening and then closing the doors. The figure appears to be wearing long, flowing robes, and could be a woman - maybe King Henry's 3rd wife, Jane Seymour who died on the premises shortly after giving birth. This footage was taken in December, 2003.