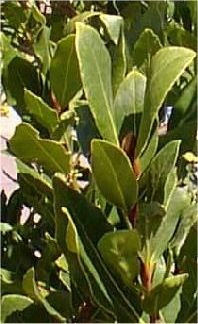 Bay is bound to Jupiter and fire. It is used in magic for wisdom, protection, clairvoyance, and purification purposes.
Burn fresh bay leaves to increase psychic powers and for divination. Alternatively, make a weak tea to increase wisdom and clairvoyance.
Hang bay leaves at the highest point in the house for protection, or burn and let the smoke hit all four corners of the house for purification and to banish evil. This is appropriate in new house or apartment situations.
Place bay leaves in a pillowcase for safe sleep and prophetic dreams.
Write wishes on bay leaves and burn to make them become true.
Custom Search
---
---
These pages are excerpted from our sister site, Gardens Ablaze. For more information on cultivation, medicinal, and culinary uses, please see the Gardens Ablaze Herb Section.